Posted by David Calleja on 23rd Feb 2019
Today we dive into one of the great Australian artist Douglas Miller. Miller was born in Geraldton, Western Australia in 1909. Graphic artist, Painter and teacher, Miller trained as a graphic artist but spent a large portion of his life in Melbourne. Miller serving in the RAN, after which he became a teacher at RMIT in 1947 and retired as Head of Graphic Design in 1969. He was know and noted for his landscapes in watercolour; paints with Twenty Melbourne Painters' Society. Early one-man shows at the Athenaeum Gallery in Melbourne.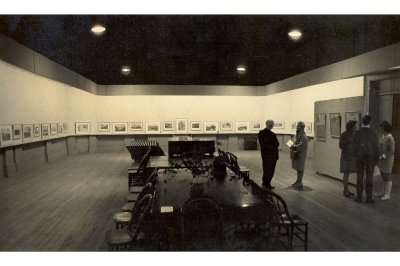 The Athenaeum Gallery in Melbourne Australia after 50 years of operation photo above.
The Athenaeum Art Gallery was officially established in 1910 and from 1909 to 1949 R.W.E. Wilmot decided to develop the small hall into an exhibition space for artists. It became a popular venue for professional and amateur artists alike.
The art gallery was lauded as the best gallery in Australia in 1913 and also considered one of the best venues to host art exhibitions in Melbourne. In 1971 the gallery was dissolved due to low patronage and Theosophical Society took over the space. If you're interested in more of the history of this building, I have left a link below.
Today we will be taking about one of the pieces that we have for sale on our website. This exquisite painting by Douglas Miller is a Realistic watercolour looking landscape which Miller has beautifully showing a broad Australian outback scene.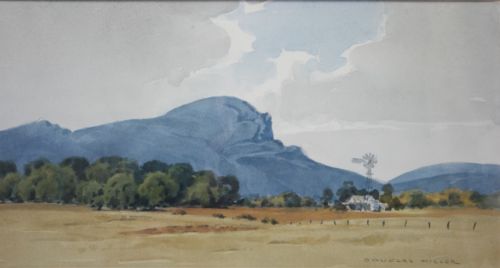 The painting gives you the sense of hard work, hot days and isolation. The painting has been painted in cool blues and warm earthy browns which gives you a sense of a hot, dry day with a chance of a storm and rain on the horizon. The scene also give you the feeling the the artist has set up his easel right in front of the scene and spent the day painting this fantastic painting in the sweltering heat on an overcast day. Miller was a graphic designer and you can see this in how he has composed the scene. Miller isn't as highly known as some major artists, but you can see just how professional this artist was, and I do have to say, I do love the order and asthetics he has in his works, I think this great artist is under rated.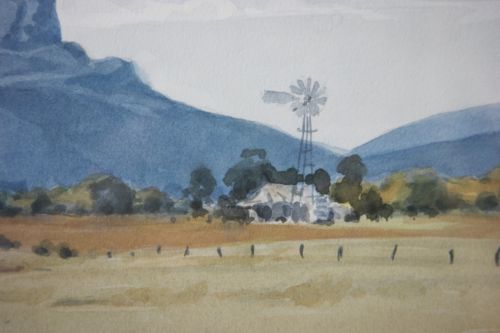 Well that just about wraps it up. Thank you for reading my blog and I hope you will continue to follow my blog and if you have any questions or you wish to ask about any other works or items, you can reach us on the contact us on our website at www.davidcallejatrading.com.au
The artwork in-question is $349.99 and is available on our website, eBay and Etsy.
On our website we have FREE SHIPPING within Australia and overseas for purchases over $100,
also don't forget to sign up to receive 10% of your first purchase
or leave FEEDBACK at the bottom of the page. Thank you.